On the eastern side of the island of Sicily with Mt. Etna in sight lies the magnificent city of Taormina. It is known for its ancient Greek theater, famous opera festival and concerts, and stunning coastline vista.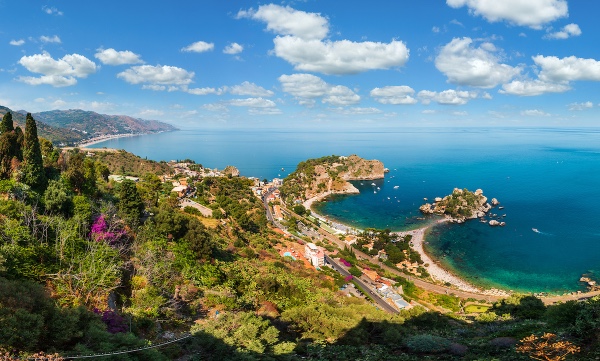 The present town of Taormina occupies the ancient site, on a hill that forms the last projecting point of the mountain ridge that extends along the coast from Cape Pelorus to this point. The site of the old town is about 250 meters above the sea, while a very steep and almost isolated rock, crowned by a Norman castle, rises about 150 meters higher. This is the likely site of the ancient Arx or citadel, an inaccessible position mentioned by ancient writers. Portions of the ancient walls may be traced at intervals all round the brow of the hill, the whole of the summit of which was occupied by the ancient city. Numerous fragments of ancient buildings are scattered over its whole surface, including extensive reservoirs of water, sepulchres, tessellated pavements, etc., and the remains of a spacious edifice, commonly called a Naumachia, but the real purpose of which it is difficult to determine.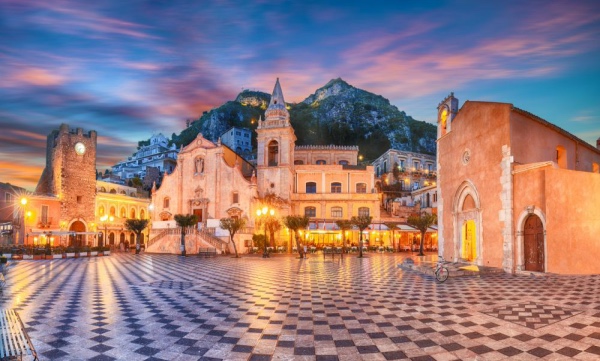 The Ancient theatre of Taormina is made mostly out of brick, and is therefore probably of Roman date, though the plan and arrangement resemble Greek rather than Roman theatres. It is supposed that the present structure was rebuilt upon the foundations of an older theatre of the Greek period. With a diameter of 109 meters (after an expansion in the 2nd century), this theatre is the second largest of its kind in Sicily (after that of Siracusa); it is frequently used for operatic and theatrical performances and concerts.
Other sights include the 12th-14th century Palazzo Corvaja, a 1635 Baroque fountain, the Church of San Domenico, the Anglican Church of Saint George, and the municipal gardens (Giardini della Villa Comunale).