We are glad to announce and welcome you to the LNF Session of the workshop:
"Nuclear Physics Mid Term Plan in Italy".
The workshop will be held in the Bruno Touschek Auditorium (Bldg. 36, access from LNF secondary entrance in Via E. Fermi, 60 - see map).
Since the workshop will be held in blended mode (online and in presence), online attendees can remotely join the Session via the following Zoom meeting link:
https://cern.zoom.us/j/63753264983?pwd=a001L0pwbmpGdnVRMjF4Q1NpWDk3Zz09
This workshop, divided on a series of four sessions, is dedicated to future nuclear physics research in Italy with particular emphasis on INFN laboratories that are preparing important upgrades for the accelerators complexes.
Session LNS (4-5 April 2022)
Session LNL (11-12 April 2022)
Session LNGS (11 October 2022)
Session LNF (1-2 December 2022)
The LNF Session will start on December, 1st at 9 am and will end on December, 2nd around 6.30 pm. During the two days, the conveners of the WG will report on their activities and will describe the future perspectives on Nuclear Physics detectors and the potentialities on Nuclear Physics measurements at LNF. The activities will be organized in the following Working Groups: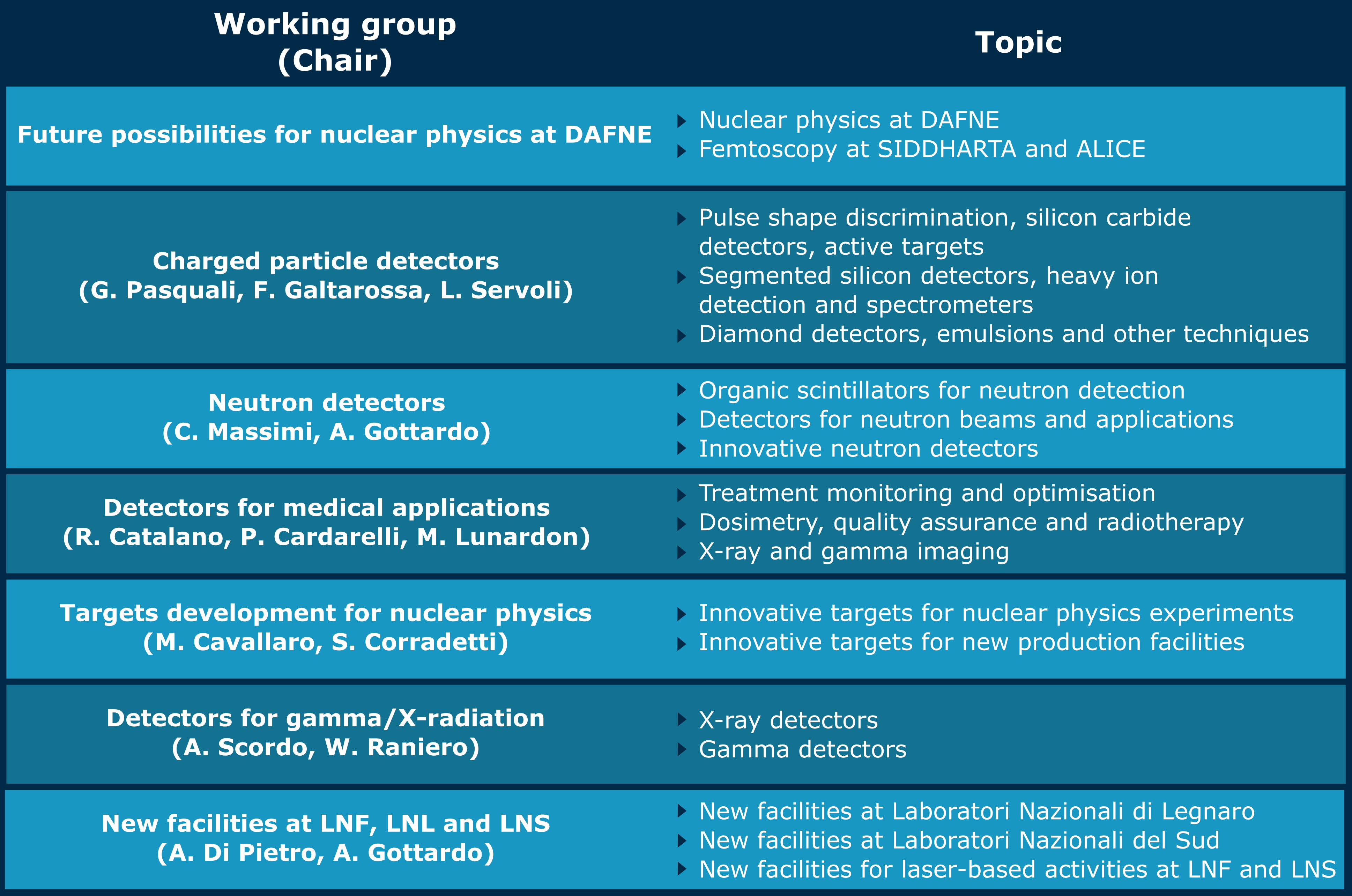 Organizing Committee of the workshop:
| | | | |
| --- | --- | --- | --- |
| Giovanna Benzoni | Diego Bettoni | Fabio Bossi | Gustavino Carlo |
| Maria Colonna | Antonino di Leva | Enrico Fioretto | Alba Formicola |
| Lorenzo Fortunato | Santo Gammino | Fabiana Gramegna | Matthias Junker |
| Marco La Cognata | Ivano Lombardo | Rosario Nania | Silvia Pisano |
| Ezio Previtali | Stefano Romano | Paolo Russotto | Francesca Soramel |
| Jose Javier Valiente Dobon | | | |

Scientific secretaries:
Eugenia Naselli Julgen Pellumaj
Secretary: Alessandra Tamborrino Orsini
---
Sponsors
This event is kindly supported by: