By car (after highway)
Coming from South you get SS75Bis from SS75.
Coming from North you get SS75Bis on A1 at Valdichiana.
Exit from SS75Bis (raccordo Siena Bettolle) at Perugia S. Faustino. Then follow the signs to the railways station "Stazione Fontivegge".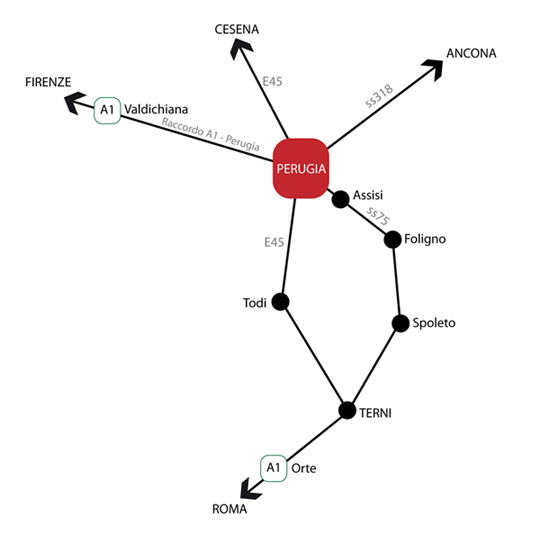 By train
See the web page of Trenitalia:
www.trenitalia.com
Some travel options may not be visible on the Trenitalia website yet. There are however several trains per day, starting from both Firenze and Roma Termini which reach Perugia in about 2 - 2:30 hours. Please check the itinerary for an earlier date to see those options.
By plane (Perugia airport)
The airport closest to Perugia is the International Airport of Umbria which is only 15 km far away from Perugia.
Here is the list of the destinations which are connected to this airport during winter:
London
Tirana
Bucarest
Catania
Cagliari
By plane (Fiumicino airport in Rome)
Fiumicino airport is connected to Perugia (city centre) by bus, service provided by Sulga.
Here you can find the schedule from Fiumicino airport to Perugia centre (Piazza Partigiani):
http://www.sulga.it/autolinea/autolinea14.pdf
Here you can find the schedule from Perugia (Piazza Partigiani) To Fiumicino airport:
http://www.sulga.it/autolinea/autolinea20.pdf
By plane (Florence airport)
If you land at Florence airport, you can take a bus to reach Florence central station (S. Maria Novella):
www.aeroporto.firenze.it/en/the-passengers/transport/bus.html
and from there a train to Perugia central station (see the web page of Trenitalia:
www.trenitalia.com)