A shuttle service will be available on June 29 at 19:00 from Fiumicino to the hotels and June 30 at 11:00 from Fiumicino to LNGS.
The gathering place in Fiumicino airport is the "Meeting Point" at the Terminal 1.
The ones who requested the shuttle service will receive, a couple of days in advance, a contact number of the driver.

On July 1st at 16:30 a shuttle service will be available from LNGS to Fiumicino.

On July 2nd at 7:30/8:00 a shuttle service will be available from hotels to Fiumicino.

Please select your choice on the registration form.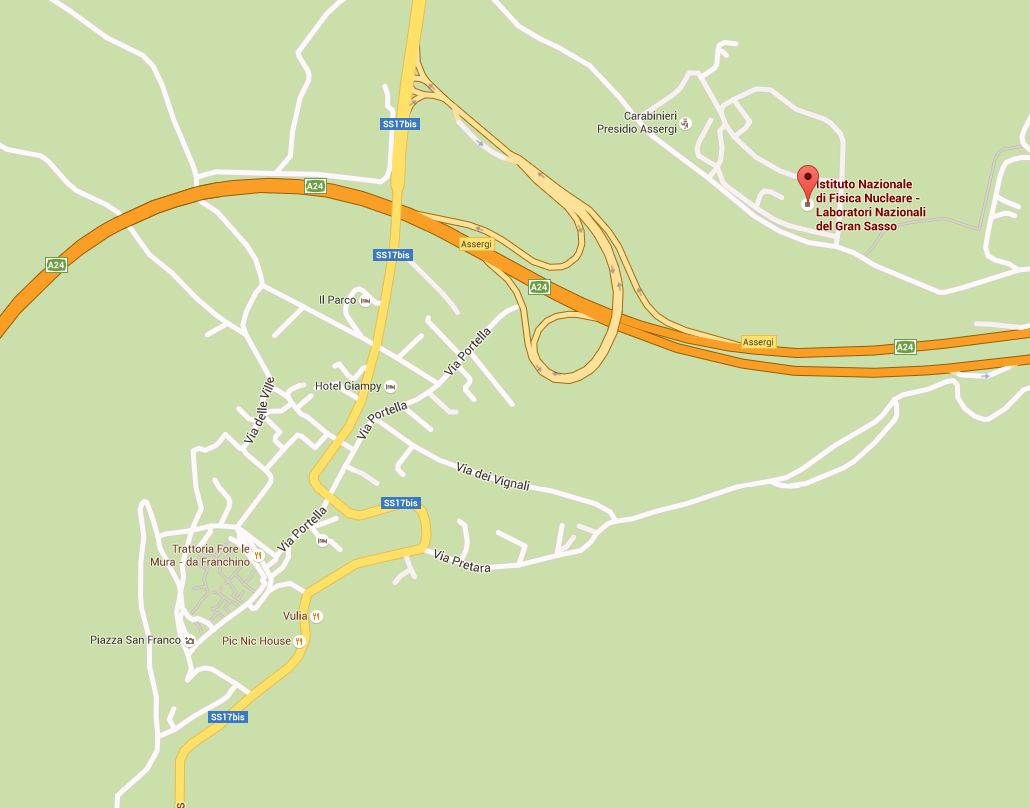 By Plane
The nearest airport to the LNGS is in Fiumicino.


By Car
From Fiumicino Airport follow for tollway A24 and take the tollway - exit Assergi.
Turn on the right and, after a few hundred meters, on the right again. You will find the laboratory on your left.


By Bus
Timetable (pdf) M6 line L'Aquila-LNGS-L'Aquila

There are daily runs from Rome (timetable), Giulianova and Pescara directed to L'Aquila.
For more information: www.arpaonline.it
In Rome the bus station is located aside the Tiburtina railway station.
In L'Aquila the bus terminal is located at the "Collemaggio" Parking.*
* The city bus n°6 services Assergi and, at some hours, it reaches the laboratory buildings about 2 km uphill.


The Gran Sasso National Laboratory are located in the Gran Sasso National Park area.
Gran Sasso National Laboratory